COX AUTOMOTIVE CANADA PARTNERS WITH THE GREAT NORTHERN AUCTION, LAUNCHES MANHEIM MONCTON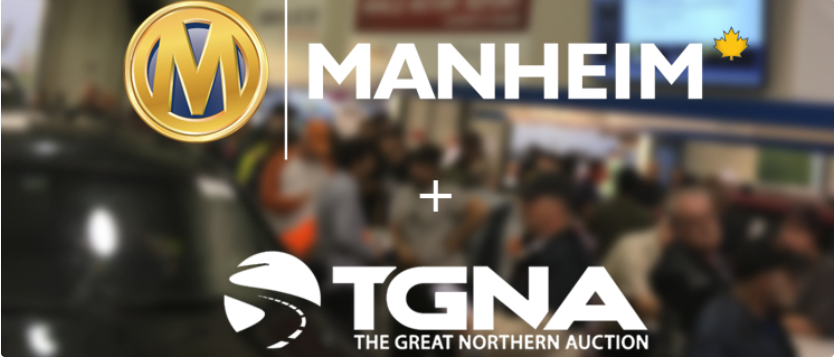 Mississauga, Ont.—February 28th, 2018—To better service the Atlantic Canada auto remarketing industry, Cox Automotive Canada officially announced this week its newly formed partnership with The Great Northern Auction (TGNA), and the official launch of Manheim Moncton.
Mississauga, Ont.—February 28th, 2018—To better service the Atlantic Canada auto remarketing industry, Cox Automotive Canada officially announced this week its newly formed partnership with The Great Northern Auction (TGNA), and the official launch of Manheim Moncton.
Beginning on Wednesday, March 21st, 2018, TGNA will be facilitating the weekly Manheim Moncton Wednesday sales. For dealers who are unable attend in person, all vehicles will be broadcast live on simulcast with a detailed vehicle condition report – along with a grading and vehicle history report – via Manheim.ca.
Founded in 2001 and located on over 50 acres of land fronting the Trans-Canada Highway in Moncton, New Brunswick, The Great Northern Auction is the largest public auto auction in Eastern Canada. Mary Liptay, TGNA's CFO, COO spoke about the many benefits of the recently-formed partnership.
"Both Cox Automotive Canada and TGNA are continually working to offer a solution that helps dealers and commercial clients have the most success with their wholesale units," said Liptay. "Discussions about this partnership were initiated over a year ago, and we are very excited about it. I feel this is a natural next move for us – part of a progression – and it's exactly what we need to be doing to grow the company in this market."
Mark Chatfield, General Manager, Manheim Halifax, whose team will support the Manheim Moncton and TGNA partnership, confirmed that both companies share an essential common goal – both consistently aim to ensure dealers and commercial clients are happier and more successful than ever before with the current wholesale landscape.
"This is a great opportunity for Manheim and Cox Automotive Canada to grow our footprint in Atlantic Canada, but it's especially exciting to be partnering with TGNA because they're a company that embraces the same culture and family atmosphere that Cox is comprised of," said Chatfield. "I look forward to continued month-over-month growth in New Brunswick – and to strengthening the relationship between TGNA and Cox Automotive Canada."
Following the Grand Opening on Wednesday, March 21st, Manheim Moncton sales will run each Wednesday starting at 3:00 p.m. AST. For more information, please contact Sarah Miller, Manager, Public Relations and Corporate Communications, Cox Automotive Canada at sarah.miller2@coxautoinc.com.
About Manheim Canada
Manheim Canada is part of Manheim, the leading global provider of vehicle remarketing services for more than 70 years. With locations in Edmonton, Toronto, Montreal, Halifax, Vancouver and 24/7 sales via www.ove.com, Manheim Canada hosts more than 30 in-lane and online auctions each month. Manheim connects buyers and sellers of used vehicles to the world's largest wholesale used-vehicle marketplace, helping dealers and commercial customers achieve results through auction channels, data analysis, inspections, financing, transportation, purchase protection, mobile products and a wide range of solutions. For more information, visit manheim.ca.
About The Great Northern Auction
The Great Northern Auction (TGNA) is the largest public auto auction in Eastern Canada, with state of the art auction facilities located in Moncton New Brunswick. Situated on 50+ acres of land, TGNA provides world-class service, noted for its honesty and integrity. Founded in May 2001, TGNA has grown every year due to their solid foundation based on superior customer service and having the best auction team in the industry. For more information, visit tgna.ca.
About Cox Automotive Canada
Cox Automotive is transforming the way the world buys, sells and owns cars with industry-leading digital marketing, software, financial, wholesale and e-commerce solutions for consumers, dealers, manufacturers and the overall automotive ecosystem worldwide. In Canada, the Cox Automotive family includes Dealer.com®, Dealertrack®, HomeNet®, Manheim®, NextGear Capital®, Ready Logistics®, RMS Automotive®, vAuto®, VinSolutions® & Xtime®, along with a host of other brands in other countries. The global company has 34,000 team members in more than 220 locations and is a partner to more than 50,000 auto dealers, as well as most major automobile manufacturers. Cox Automotive is a subsidiary of 120-year-old Cox Enterprises, Inc., which has revenues exceeding $20 billion and approximately 55,000 employees. Cox Enterprises' other major operating subsidiaries include Cox Communications and Cox Media Group. For more information about Cox Automotive Canada, visit coxautoinc.ca.

---
MARCH 8, 2018 / BY STUART
UNCATEGORIZED
AUCTION TRENDS
Below is a graph of the sold units in the summer weeks for the past 3 years here at TGNA. As you can see, each year tends to trend the same. Sure there are some anomalies that can happen, but the majority of the time we can predict how large the sale is going to end up being. Here are my thoughts on each week of the month and the general tendency that produces these results:
Week 1: Wholesale inventories are lower as most lots have already been cleared by the month end.
Week 2: Typically if there is a Statutory Holiday, it'll fall on the first Monday of the month. When there's a holiday, it throws off the routine for a lot of businesses, including auctions and dealers.
Week 3: I have seen the third week of the month to usually be the lowest in sales volume and I haven't completely put my finger on it yet, but my best guess is that dealerships are busy trying to hit
retail sales targets and all inventory is fair game. So they hang on to everything, trying to retail it. I would love to hear your thoughts on week 3.
Week 4: Probably the most obvious week of the month, wholesale inventory reduction week.

---
UNCATEGORIZED
SEVEN DEADLY SINS OF WHOLESALING
Wholesaling is alive and well as we know it; let's keep it that way! Don't sabotage your wholesale business; avoid these common deadly sins of wholesaling:

YELLOW – Greed: Greedy Greg always holds out for a better offer. Your first offer is your best offer!

RED – Wrath: Walter got burnt and burnt his bridges. Take your lumps, and move on… smarter!

GREEN – Envy: Envious Evan is upping the ante and trying to compete outside his niche. The grass isn't always greener on the other side, know your market.

PINK – Lust: Lustful Larry is always falling in love with his inventory. Every unit is a bag of cash, put out the inventory that will sell!

ORANGE – Gluttony: Garry the Glutton continues to buy more than he can handle. Know your inventory sweet spots!

BLUE – Sloth: Sam the Sloth takes his wholesale relationships and business practices for granted. Pay attention to details; the small things make all the difference!

PURPLE – Pride: Proud Peter knows all, and you can't tell him otherwise. None of the above applies to him…


---
UNCATEGORIZED
AUCTIONEERS: BID TAKERS OR MARKET MAKERS?
Every auto auction has auctioneers who are either there only to take bids or who can bring a market to life. Here's how you can tell which one you are buying from:

Fostering a strong marketplace by having the "Market Maker" auctioneers on the block is the route that all auto auctions need to take.


---






UNCATEGORIZED
WHOLESALE BRAND – WHAT THE TOP BUYERS HAVE DONE
Buyers can create their own wholesale brand, just as sellers can. Here are some ways they end up being valued:
Knowing what can be arbitrated – they aren't wasting the time of sellers.
Giving a little bit on a unit to gain a lot on another – they understand that fluidness of the market and know if they can build a strong relationship it'll work in their favour in the long run.
They are clear on bidding intentions with auctioneers in the lanes. Auctioneers love knowing where a bidder stands; it makes the auction more efficient not having to second guess intentions.
Paying efficiently – on time every time – delaying on or making excuses when buying at either dealership or auction level sours the relationships….sometimes beyond repair.


---
UNCATEGORIZED
WHOLESALE BRAND – THE BUYER'S BENEFITS
Buyers can create their own wholesale brand, just as sellers can. Some upsides to having a great wholesale brand on the buying side are: you'll get more attention paid to you when something goes wrong, your auction's reps will work just that little bit more – it is easy to when they always know where you stand. Selling dealerships commonly work with the buyers with a great wholesale brand by doing "give and takes." This means they'll go with a buyer on a unit at a lower price, as they know the buyers will step up on the unit where the seller needs him to. You always get the benefit of the doubt with auctioneers and more importantly, auctioneers respect the bidders who make their job easier.
A good Wholesale Buying Brand has massive benefits. My favourite line to try to make an "if bid" happen is "he's a good buyer if you can make it happen…" I only use it if it's true but it sure works.


---
UNCATEGORIZED
AN INDEPENDENT DEALER'S WHOLESALE BRAND IN THE LANES
The hierarchy of desired vehicles in a buying dealers mind is as follows:
Lease/Fleet units
Franchise dealership units
Bankruptcy units
Bank repo units
Independent dealer units
So how is an independent dealer able to raise his "stock" in the eyes of the buyers? Be very open and transparent about your units by providing as much information that you have at your disposal. Putting what you know about the vehicle in a print out for the window, providing vehicle history reports, bringing the unit in with a new inspection, and declaring known issues on every vehicle you list for a wholesale sale. Do some or all of these things, and you'll see more bidders step up and make offers based on the vehicle in front of them and not on who is selling it. It's a hard road to take, but for the independent that can be the most open and transparent seller in the lanes, the payoff is massive.


---
UNCATEGORIZED
WHAT IT SOUNDS LIKE AND LOOKS LIKE WHEN A CAR IS SOLD AT TGNA
UNCATEGORIZED
OIL CHECK AND WHAT TO LOOK FOR IN A USED CAR
UNCATEGORIZED
VW GOLF WALK AROUND FOR USED CAR LOOKOUT